Here are some odds and ends from The Burner's trip to Catalyst West 2011 at Mariner's Church in Irvine, Calif. last week.
Speakers
Not all Catalyst West speakers inspired a blog post. (You should know that TB missed Eugene Peterson and the Friday morning session.)
A list of Catalyst Speakers that did get a blog post:
Britt Merrick
Matt Chandler
Nancy Ortberg
Andy Stanley
David Platt
Scot McKnight
John Perkins – Founder, John M. Perkins Foundation for Reconciliation & Development
America is at the verge of post-racism.

You can't change people until you know them. To 'know' is the strongest word in the Bible.

Our love has to be demonstrated in both word and deed, and our deeds give us the opportunity to speak our words.

We need to direct our mission to those who are most need.

The church plant in a mission field should be followed by a community development center to raise up indigenous leaders.

Courage is not to act on one's fear, but to act in the face of fear.
Soledad O'Brien – Anchor and Special Correspondent, CNN/U.S.
Question posed to a missionary in Haiti: "How do you work here when there is no end in sight?"

"Do you know the story about the starfish?"
Jack Dorsey – founder and CEO of Twitter
Only the courageous will engage problems that have never been addressed.

It's not courageous to be lucky, but rather to be prepared for when the time is right.
Randall Wallace – writer, Braveheart, We Were Soldiers; director and producer, Secretariat
Confirmed for Wallace in his heart of hearts that what moved him might move others. He could only find what was universal by finding something that was completely personal.
Art and Trampolines and Food Trucks and Friend-Making
Bravo to Catalyst West for adding all sorts of little frills to the experience; in this case, pictures are worth about 15-20 words.
Music
There were several different groups that played and/or lead worship at Catalyst West; TB's already remarked on the Gungor session that was beautiful. They also played along with this video that TB appreciates to no end: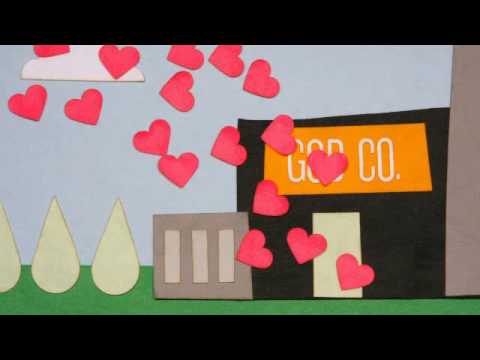 Mariners Church
Mariners Church in Irvine, Calif. was the site of Catalyst West 2011 and was a central character in TB's Catalyst experience. If TB had gone to a Christian college, and the campus of Mariners Church was the college, TB would have few disappointments. For instance, let's play Which is the Worship Center?
If your answer was the last one, you win! (The other two were the children's center and the chapel, respectively.) There are literally five other complexes that could have been included as a plausible worship center. In fact, the actual worship center has a bookstore and a restaurant as well. There are waterfalls, streams, fields, a life-size whale to play in, and a trolley to get people out to the parking lots. The church has two dedicated traffic lights to manage those coming in and out.
The place is RIDICULOUS–and TB's not sure if it's good ridiculous or tragic ridiculous. Maybe that's for another blog post.
Either way, thanks Mariners for hosting.
Tags: Catalyst West, conferences, Gungor, Jack Dorsey, John Perkins, Mariners Church, Randall Wallace, Soledad O'Brien